Our Factory
Did You Know?
Because we produce our own bags, you are guaranteed the best price directly from the manufacturer. No extra cost!
We have our very own factory so we can guarantee full customization and high quality in every bag. Furthermore, we are able to give clients the best market price available for all our bags!
This page is for all those who are interested in how we make our plastic bags. Here we will walk you through the plastic manufacturing process in just 3 easy steps!
Step 1: Heating the resin and blowing the plastic into the desired bag width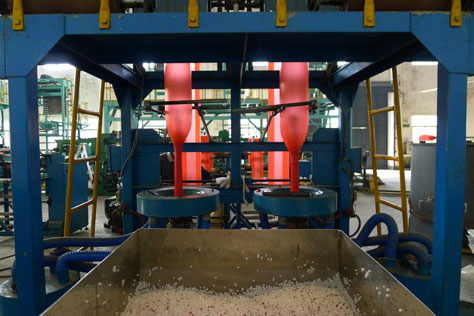 When plastic resin granules are heated, they become more flexible and malleable.
Air is then pumped into the material to produce a tube accelerating upwards - similar to blowing up a balloon.
The thickness and size of the plastic bag is then determined based on the amount and speed of the air blown into it
Step 2: Printing, shaping, and flattening of the bags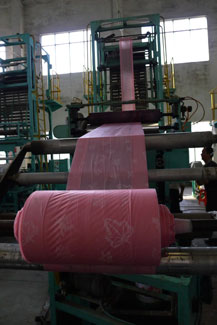 The bags are blown upwards to cool.
Once at an appropriate temperature, the plastic is then shaped and flattened in between metal rollers to achieve the desired design.
For example, the picture given (right) illustrates a printed bag folded into a side-gusset design.
The printed images on the bag are completed using gravure printing to give a smooth matt finish.
Unlike the conventional method, gravure printing involves the ink being directly applied to metal plates instead of rubber ones which allows for greater detail and a cleaner finish on all designs.
In this way, we are able to print vibrant and clear illustrations of high quality on all our plastic bags (see below).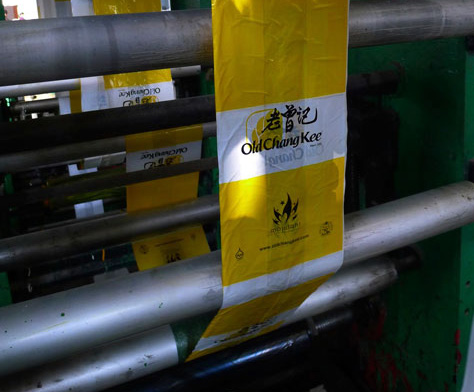 Step 3: Cutting the plastic into individual bags for packaging
Finally, we cut the plastic tubes into individual bags with the desired designs and arrange them neatly in stacks.
For example, the picture given (below) is of our HDPE t-shirt bags.
We use a Heat Seal whereby the bags are tightly sealed with a hot iron - making it 100% leakproof and sturdy enough to withstand a large weight volume.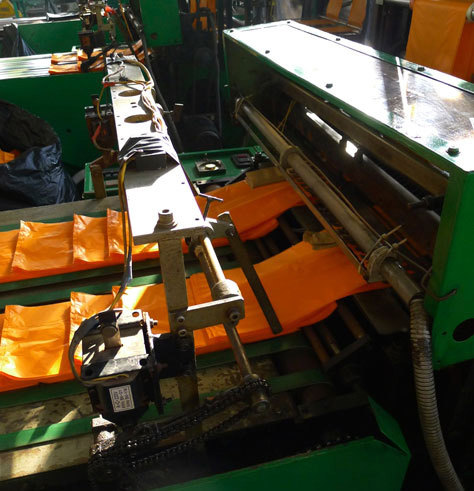 And we are done!
That concludes our plastic bag making process. Our completed bags are then slotted into neat clear plastics for ease of transportation in packets/rolls.
We hope that you have enjoyed this little tour of our factory! Do check out our completed products here and please do not hesitate to contact us if you have any questions about our factory!