About Us
Did You Know?
You would need to use the cotton bag 131 times to have the same amount of carbon emissions as a one time use HDPE plastic bag. 327 times if the HDPE plastic bag is reused once.1
LAMIPAK is a Singapore-owned company that aims to produce environmentally friendly plastic packaging products. In lieu of the Reuse, Reduce, and Recycle project, Lamipak products are thin, strong, durable and degradable. In this way, we ensure that our bags can be used again and again, thereby reducing the amount of carbon emissions released into the air (as supported by the UK Environmental Agency, Life cycle assessment of supermarket carrierbags, 2011).
With over 40 years in the plastic packaging business, LAMIPAK has produced a wide range of plastic bags and plastic packaging materials. A pioneer in High Molecular Weight High Density Polyethylene (HM-HDPE) films, LAMIPAK has succeeded in manufacturing plastic packaging films that are 10 times thinner than the average Low-Density Polyethylene film and yet maintaining high standards of quality, durability and strength.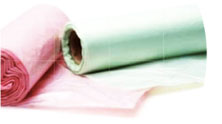 An established manufacturer of multi-purpose polyethylene plastic, LAMIPAK offers a comprehensive gallery of products including super strong plastic bags in varying sizes made for wide packaging applications such as foodstuffs, laundry, shopping bags, garbage disposal bags, bin liners, refuse sacks and trash bags.
Adhering to stringent quality control, not only does LAMIPAK customize bags to meet the specifications of our customers for domestic, commercial and industrial use, LAMIPAK bags are also known for being leak proof, odour-free and most importantly, cost-effective. View our products
Our Promise to You...
LAMIPAK guarantees our customers product reliability, customer focus and cost competitiveness. We ensure on-time delivery, consistent quality, and professionalism in all our business dealings.
Put your trust in us, and you will not be disappointed.